NABHYA SPORTS WORLD (All Sports and Gym Equipments)

In search of the Best Sports and Gym Equipments Shop in Bangalore, Internet Admedia reached to a shop; Retail Dealer in "Marathahalli Junction, Marathahalli, Bangalore" which is satisfying the customers since last 15 year and that Retail Dealer is famous as "NABHYA SPORTS WORLD". The owners of that famous NABHYA SPORTS WORLD are Mr. M. Ravi Kiran and Mrs. M. Nikitha Rao. You can read all facts about shop and professional life of owners as given below, which was asked in face to face interview with the owners by Internet Admedia.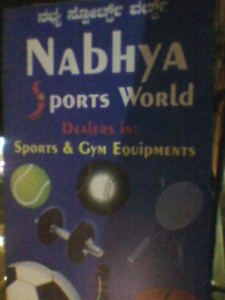 Owners Full Names:
Mr. M. Ravi Kiran
Mrs. M. Nikitha Rao
Contact Numbers:
Mobile:
+91-9845219947
+91-9008490597
Phone:
080-25401914
E-mail:
ravikiran_rai@rediffmail.com
Specialist In:
Retailers of all Sports & Gym Equipments
Sports Equipments:
– Foot ball
– Basket Ball
– Volley ball
– Cricket Kit
– Cricket bats (Tennis & Leather)
– All kind of Cricket Balls
– Shuttle Racket
– Hockey Stick
– Caram board
– Foot Ball Shoe
– Cricket Shoe
– Scating Accessories
– Skipping Rope
– Chess Board
– Badminton Net
GYM Accessories
– Dumbles
– Plates
– Rods
– Gym Glows
– Yoga mats
Dealers in:
– Sports Outfit
– Sports Goods
– Gym Equipments
Special Offers:
5% Discount on Specific Equipments.
Experiences:
The owner Mr. M. Ravi Kiran Rao is more than 15 Years experienced in the Field Of Retailing of Best Sports and Gym Equipments.
Satisfied Customers:
More than 10000 satisfied customers.
Location:
M.T.K. Reddy Complex, Shop 6, 2nd Floor, Ring Road Junction, Marathahalli Main Road, Bangalore – 560037.
Achievements:
More than 2500 satisfied customers
Aim of Business Life:
Providing Best Products in Economical Price to Customers.
Best moments of your business life?
When we see satisfaction in my customers eyes.
Why is your Sports Shop is the best in Marathahalli?
Because we are Customer Friendly and Economical.
What is the opening time for Company?
Everyday – 10:00AM to 1:00PM And 5:00PM to 9:00PM
How do you rate the interview with Internet Admedia?
Good.