Aayeena : The Reflection of life…
Aayeena : The Reflection of life…
(Ladies Designer Sarees, Dresses Materials and Ready-made Dresses Shop)

In search of the Best "Ladies Designer Sarees, Dresses Materials and Readymade Dresses Shops" in Bangalore, Internet Admedia reached to a shop in Marathahalli main road, Marathahalli Extn. which is satisfying the customers since 6 Months and that shop is famous as "Aayeena". The owner of that single ladies center (shop) is Mr. Muzammil Khan. You can read all facts about Aayeena and professional life of owner as given below, which was asked in face to face interview with owner by Internet Admedia.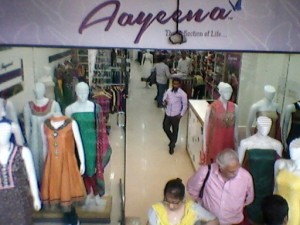 Owner's Full Names:
Mr. Muzammil Khan (Sameer)
Contact Numbers:
Mobile:
+91-8197525225
Phone:
080-41276220
Email:
muzammilsameer32@gmail.com
Shop Location (1):
Aayeena
# 93/1, P. Chandrasekhar Building, Favorite Shop Basement, Marathahalli Main road, Marathahalli Extn. Bangalore – 560037.
Shop Location (2):
Aayeena
in Frission,Next to Mega mart, Opp. Civil Hospital, Near ramdev Hotel, Belgum, Bangalore.
Why is your shop the best in Bangalore?
Because I do my job honestly according to the requirements of customers to satisfy them.
Specialist In:
All ladies items like:
– Designer Sarees
– Dress Materials
– Kurtis
– Anarkali Readymade
– Block Print Dress
– Readymade Dresses
– Tops & Leggings
– Nighties
– Printed Patiyala
– Wedding Collection
– Bandani
– Block Print Dress
– Long Length Anarkali Kurtis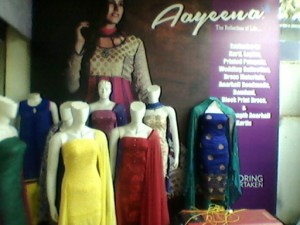 Special Offers:
– Inaugural diiscount Flat 30% off on New Arrivals
Gift Vouchers: (This Offer is Only for Ladies)
– For the First time in Marathahalli, Special Offer for Bridal Package 50% off who are Get the Voucher from "Like Beauty Parlour" & Enjoy the Benefit From Aayeena.
Experiences:
3 years experienced in the field of selling Ladies Designer Sarees, Dresses Materials and Readymade Dresses, etc.
Satisfied Customers:
More than 650 numbers of satisfied customers
Aim of Business Life:
Satisfying the customers according to their requirements.
Best moments of your life?
When I see satisfaction in my customers eyes.
What is your opening time for shop?
Everyday – 10:30AM to 9:30PM
How do you rate the interview with Internet Admedia?
Good.