Vignesh Motors (Indian & Imported Vehicles One Stop Car Care Solution)

In search of the Best Car Service Station in Bangalore, Internet Admedia reached to a Car Service Station in Horamavu Agara Main Road, Lake Road, Bangalore which is satisfying the customers since 10 years and that Car Service Station is famous as "Vignesh Motors". The owner of the Car Service Station is Mr. Shiva Kumar. Vignesh Motors was first etablished in Kullapa Circle, Kammanahalli with a team of specialized mechanics, painters, tinkers, electricals, etc. You can read all facts about the Car Service Station and the professional life of the owner as given below, which was asked in face to face interview with Owner by Internet Admedia.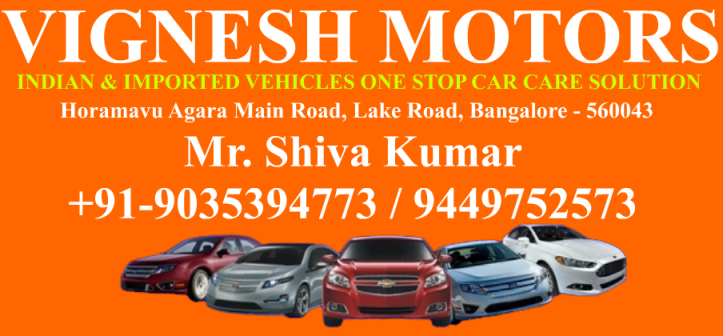 Owner Full Name:
Mr. Shiva Kumar Sindhi
Contact Numbers:
+91-9035394773
+91-9449752573
Car Service Staion Location:
Horamavu Agara Main Road, Lake Road, Bangalore – 560043
(On the way of Horamavu Agara Lake Side Road)
Specialist In:
– Mechanical and Painting
– Services for all Indian and Imported Vehicles
– etc.
Emergency Work:
We provide 24 hours services for emergency in surrounding of 25Km from Horamavu Agara Main Road.
Experiences:
The owner is more than 25 years experience in the field of all types of Car Services.
Satisfied Customers:
More than 20,000 numbers of satisfied customers.
Achievements:
More than 20,000 numbers of satisfied customers
Aim of your Business Life:
Satisfy the customers.
Best moments of your professional life?
When I see satisfied customers.
Why is your Car Service Station the best in Bangalore?
We do our job honestly with reasonable prices.
What is your opening time for Car Service Station?
Monday to Saturday – 9:00AM to 7:00PM
Sunday – 9:00AM to 2:00PM
How do you rate the interview with Internet Admedia?
Good.