TM Auto Garage

In search of the Best Car Garage in Bangalore, Internet Admedia reached to a Car Garage in Horamavu Main Road, Near Horamavu Signal, Bangalore which is satisfying the customers on the basis of their need and that Car Garage is famous as "TM Auto Garage". The owner of that Car Garage is Mr. Basheer. In this business he has massive experience in Abroad and India. He also deals with Car Washing.
TM Auto Garage was first established in Horamavu Main Road, Near Horamavu Signal with a team of specialized mechanics, painters, tinkers, etc. You can read all facts about the Car Garage and the professional life of the owner as given below, which was asked in face to face interview with them by Internet Admedia.

Owners Full Name:
Mr. Basheer
Contact Numbers:
+91-9342190456
+91-8105873456
Car Garage Location:
TM Auto Garage
#123, 10th Main Road, Nandanam Colony, Horamavu Main Road, Bangalore – 560043
(Near Horamavu Signal, Bangalore)
Emergency Services:
24/7 – Contact us for any kinds of emergency services related to cars.
Specialist In:
– Services for all Indian and Imported Vehicles
– Mechanical and Painting
Experiences:
The owner has more than 30 years experience in India and Abroad in the field of all types of Car Services.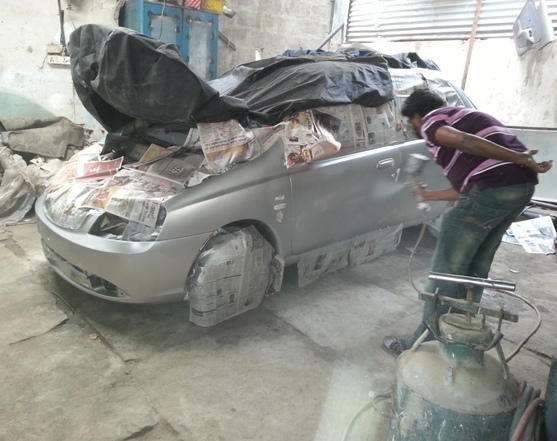 Satisfied Customers:
More than Thousands of satisfied customers.
Achievements:
More than Thousands of satisfied customers.
Aim of your Business Life:
Undertaking all kinds of 4 Wheelers, Tinkering, Painting, A/C & Mechanical Works, etc.
Best moments of your professional life?
When I see satisfaction in customers eyes.
Why is your Car Garage the best in Bangalore?
Because we complete any kinds of major work within one day.
What is timing of your Car Garage?
Everyday – 9:30 AM to 8:30 PM
How do you rate the interview with Internet Admedia?
Good.