Dr V Rao

In the search of the Best Doctors in the world, Internet Admedia reached to an exceptional personality who is a cosmetic and anti aging Doctor who has extensively contributed to the Science of "Beauty and Anti Aging Health". His Mission is " Help people to achieve the fullest health & beauty of body and mind" & Vision is "Increasing the length and quality of life, preventing diseases, and maintain the optimal level of physical, mental, and emotional well being that characterizes true health". He is the GOLD MEDALLIST & is also the most awarded Cosmetic Physician & Nero Rehabilitation Specialist In India . He is one of the well known multi talented Doctors in the world. The Doctor is very unique, fully dedicated to his passion, humble, yet disciplined being an international fame. His day starts with happiness of patients and day ends with satisfaction of his patients. Till date more than 26,000 patients have got treated by him including , models, Bollywood and Hollywood actors, actresses and world famous celebrities. It's a joy to see this Doctor at in his cosmetic & beautification work, which he makes complex medical cosmetology in to a simple art. Celebrities and his clients across the world, has to wait to fix up an appointment for getting crafted their beauty by his magical hands. He is very professional because he maintains absolute privacy and comfort of has patients and safety is his mantra. He is the master of beauty creation and a teacher for many doctors for COSMETIC MEDICINE. He also runs training institute which is the 1st in the country of its kind and has transformed many in to cosmetic medicine specialists. It is one of its kind to provide 360 degree courses with hands on training and certifications in cosmetic medicine from India. To know more about him, non other than Dr. V. Rao, continue reading for his personal life and business life which was asked in face to face interview with him by Internet Admedia.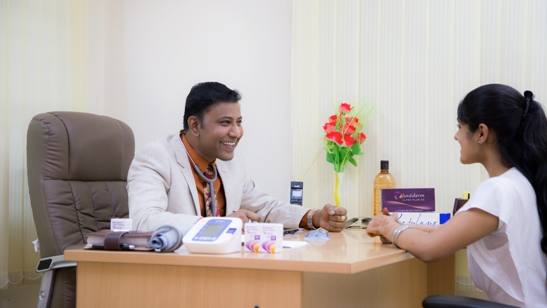 Full Name:
Dr. Vijendra Rao
Known as:
Dr. V Rao
DOB:
8th JUNE 1974
Education:
MBBS, DA.(Manipal-MAHE), Diploma Aesthetic medicine (USA)., PGD Medical Cosmetology, AAAM (USA), FAGE
Extra Training:
– Member AMERICAN ACADEMY OF AESTHETIC MEDICINE
– Member EUROPEAN SOCIETY FOR COSMETIC & AESTHETIC DERMATOLOGY
– ADVISOR & Expert Consultatnt for BOTOX & JUVEDERM FILLERS Science to ALLERGAN
– Specialist and Trainer for Medical Cosmetology , BOTOX & Fillers science to Doctors Member
Specialist In:
– Cosmetic & anti aging medicine
– Neuro rehabilitation
– Anesthesia & critical care & pain management
Dr. V Rao is the 1st official Indian doctor to become the Trainer /Facilitator of BOTOX & Fillers science in India. He was the 1st Indian Expert Consultant & Medical advisor to manufactures of BOTOX & JUVEDERM for COSMETOLOGY and NEUROLOGY for last 10 years. Dr V Rao is the 1st official Indian Doctor to conduct BOTOX COSMETOLOGY & NEUROLOGY workshops, training courses to doctors to at both INDIA & neighboring countries. In last 10 years, probably he has done the highest number of treatments of Botox and Filler procedures. Dr V Rao is not only recognized in India but also well recognized in many Asian countries for his expert lectures and trainings and demos. Dr V Rao has immense exposure to world best centers for excelling in his field like Mayo clinic, and Samsung Center of Korea, Tan toc Seng Hospital of Singapore , Taiwan and Australia for academics.
Experiences:
Dr. V Rao is the Medical Director and Founder of COSMOCARE, a Cosmetic & anti aging center. Dr V Rao is instrumental in introducing Botox and Fillers Science to Hundreds of Indian doctors both in Cosmetology and Neurology specialty. In last 10 years Dr V Rao Has conducted hundreds of Cosmetology training workshops, speaker programs, Physician Hands on courses across INDIA. Dr V Rao has special interest in Botox, Fillers & Non surgical cosmetic procedures like Face lift, Eyebrow lift, mesotherapy for skin & hair, Jaw slimming, Nose recreation, Lip shaping, Mid Face Augmentation ( Blush Bone), and stop excess sweating of arms pits, hands and feet.
Dr V Rao is visiting expert for treating patients at many top institutions and medical colleges across country like, AIMS , Safdarjung Hospital (DELHI), St. Johns Hospital, Rainbow Hospital (Hyderabad), JIPMER, etc. He is Speaker at various National and international conferences Like DERMACON, PMR SOCITY, Neurology Society of MAHARASHTRA & Aesthetic forums.
As part of his post graduation, Dr V Rao specialises in pain management also. Dr V RAO has developed treatments for injection technique using PROLOTHERAPY & OZONE. It is best suited for Back & neck pain, disc pain and Regenerating Joints Pain that has been shown to regenerate damaged joints, herniated discs, and degenerated joints, tendons, and soft tissues
Satisfied Patients/Customers:
– Since 2001 to 2014 more than 25,000 satisfied patients with best treatments.
– More than 150 training workshops for doctors in all over the World.
– Around 50 plus speaker Programmes for National & International conferences
– Opinion Leader and Advisors to Botox & Fillers manufacturer
Birth Place:
Bangalore, India
Nationality:
Indian
Residence:
Bangalore, India
Hair Color:
Black
Eye Color:
Black
Height:
5 ft 8 in
Weight:
70 kg
Ethnicity:
Indian
Dress Size:
40
Shoe Size:
10
Favorites:
Dress – Formals
Food – Thai
Place – Dubai
Friend – Dr. Anitha
Person – Mother
Teacher – My Patients
School – National College
University – Oxford
Book – Harry Potter
Music – Madonna
Movies – Titanic
Color – Blue
Doctor – Myself
Hospital – COSMOCARE
Actor – Amitab Bacchan
Actress – Angelina
Quote – COSMOCARE INSPIRED BY LIFE
Day – Sunday
Spouse:
Single
Net Worth:
$10 Million
Main Business:
COSMOCARE Cosmetic & Anti Aging Clinic
MEDICAL COSMETOLOGY – (HEALTH AND BEAUTY Services)
Facebook:
https://www.facebook.com/drvraocosmocare
Twitter:
https://twitter.com/drvraocosmocare
Google +:
https://plus.google.com/105063163533058653514
Achievements:
– GOLD MEDALLIST in Post Graduation
– Post Graduate in Aneasthesia, Critical Care & Pain Managment.
AWARDS:
MOST AWARDED COSMETIC PHYSCISIAN & NEURO REHABILITATION Specialist IN INDIA
Inspired By:
Swamy Vivekananda
Aim of Life:
"Help people to achieve the optimal health and beauty of body and mind. Increasing the length and quality of life, preventing disease, and maintain the optimal level of physical, mental, and emotional well being that characterizes true health."
Meaning of Life:
"Add value to others Life and make living better."
Best moments of your life?
Evryday! – when I see satisfaction in my patients eyes.
What do you think about Patient?
Unspoken teachers who make us better day by day in understanding them.
Why are you the best Doctor in the world?
Because, For Dr V Rao, It was only natural that after being well-versed in Cosmetology and Botox Neurology, his level of comfort makes him an expert and leader in his field across country. Comfort with Diagnostic and Injection skills, kind-heartedness and humble nature makes it a joy to watch him at work. An ethical style of practice without a Ego and arrogance is refreshing with absolute protection of patient's privacy regardless of who it is. His attention to detail and commitment to the Art and Science of Cosmetic and Anti aging science has led to clocking over 25,000 satisfied patients and best treatments till date!
Doctor and Patient Relationship:
Teacher and student (MYSELF) ON A DAILY BASIS.
Where do you work?
COSMOCARE
Cosmetic & Anti Aging Center
#999/5, KALYAN NAGAR, Outer ring road, BABUSAPALYA, near HORAMAVU signal junction, Bangalore – 560043, Karnataka, India
How do you treat a patient?
With full cover of privacy and 100% ethical promises.
How safe is your hospital?
My hospital is 100% Safe because it meets required compliance, and equipped with state of the art infra structure and doctors.
How best is your hospital?
It's run by most trusted and experienced cosmetic physicians, trained staffs, and best rated services during and after care.
How best is your training institute?
1st in the country, and run by the official 1st expert and trainer. Most professional approach, and certified programmes.
How do you schedule your day?
10 hrs a day from 9 am to 7 pm. only with appointments
What's your best time-saving trick?
Avoid phones during consultation & procedures.
What's your sleep routine like?
6-7 hrs a day. A good sleep means a good health!
Are you more of an introvert or an extrovert?
Balanced.
Fill in the blank. I'd love to see _____making the planet , a better place to live__ answer these same questions.
Dr. Anitha
How to contact you directly?
By phone: +91-9481288500 or email: drvrao@cosmocareindia.com. Best is through appointments on my website www.cosmocareindia.com
Is there anything else you'd like to add?
Spread medical awareness among public.
How are you feeling by attending the interview with Internet Admedia?
Very good. A introspective session to re-discover our ownself.
If you also want to attend interview, please contact us at interview@internetadmedia.com.