Dhanalaxmi Hardwares (Hardware Shop: Wholesale Dealers in paints, sanitary, cp fittings, plumbing items)
Dhanalaxmi Hardwares (Hardware Shop: Wholesale Dealers in paints, sanitary, cp fittings, plumbing items)

In search of the Best Hardware Shops in Bangalore, Internet Admedia reached to a Hardware Shop in Ashwath Nagar, Thanisandra Main Road, Bangalore which is satisfying the customers since 10 years and that Hardware Shop is known as "Dhanalaxmi Hardwares". The owner of that Hardware Shop is Mr. Dharmendra. You can read all facts about the Hardware Shop as given below, which was asked in face to face interview with the owner by Internet Admedia.
Owner's Full Name:
Mr. Dharmendra
Hot Line Number:
+91-9632289312
Contact Number:
+91-9632289312
Address:
# 4 & 5, Sharadhama Complex, Aswath Nagar,
Thanisandra Main Road, Dr. S. R. Nagar Post, Bangalore – 560077
Why is your Hardware Shop the best in Bangalore?
Because we treat all customers as a God.
Specialist In:
Wholesale Dealers in:
– Asian Paints
– G.I. Pipes
– Supreme Pipes
– Ashirvad CPVC Pipes
– Fittings
– Sanitary Fittings
– Jaquar
– ESS Fitting
– Godrej Lock
– Hitank
– Waterproofing
– Fosrock
– Dr. Fixit
– Hardware items
– etc.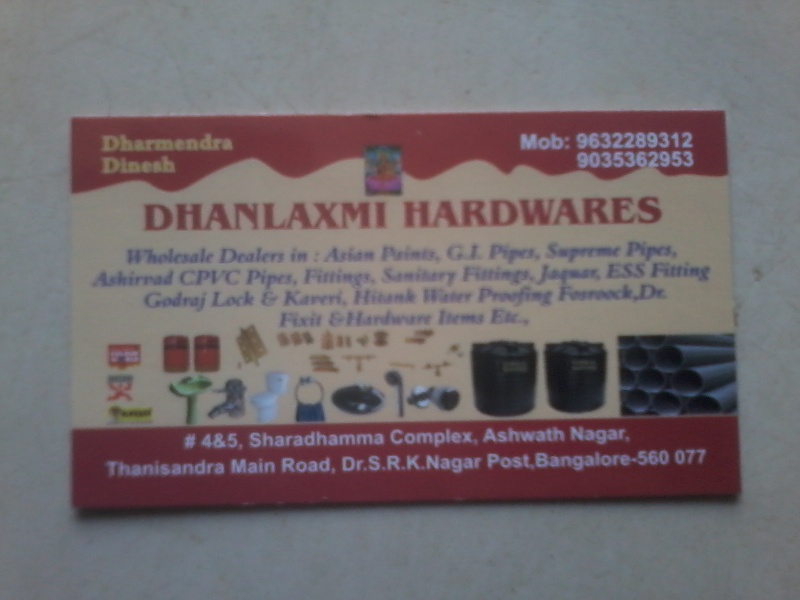 Experiences:
We are more than 15 years experienced in the field of all types of Hardware items.
Satisfied Customers:
More than 2,50,000 numbers of satisfied customers.
Achievements:
More than 2,50,000 numbers of satisfied customers.
Aim of your Business Life:
To satisfy customers according to their requirements in Hardware items.
Best moments of your professional life?
When I see satisfied customers coming back to my Hardware Shop.
What is timing for your Hardware Shop?
Everyday – 8:00 AM to 9:00 PM
How do you rate the interview with Internet Admedia?
Good.