Aditya Automotive (Car Workshop & Washing)

In search of the Best Car Workshop (Service Station) in Bangalore, Internet Admedia reached to a Car Service Station in Thirumala Layout, Agara Main Road, Near A.K.R. School which is satisfying the customers since 2 years and that Car Service Station is famous as "Aditya Automotive". The owners of the Car Service Station are Mr. Prasad and Mr. Rakesh. In this business they have massive experience in Abroad and India, they also deal with Car Washing.
Their motto as always been to service the car timely with a team of specialized mechanics, painters, tinkers, electricals, etc. under one roof, providing best quality optimum parts with low labour charge. Their strive towards satisfaction and performance in service. You can read all facts about the Car Service Station and the professional life of the owners as given below, which was asked in face to face interview with them by Internet Admedia.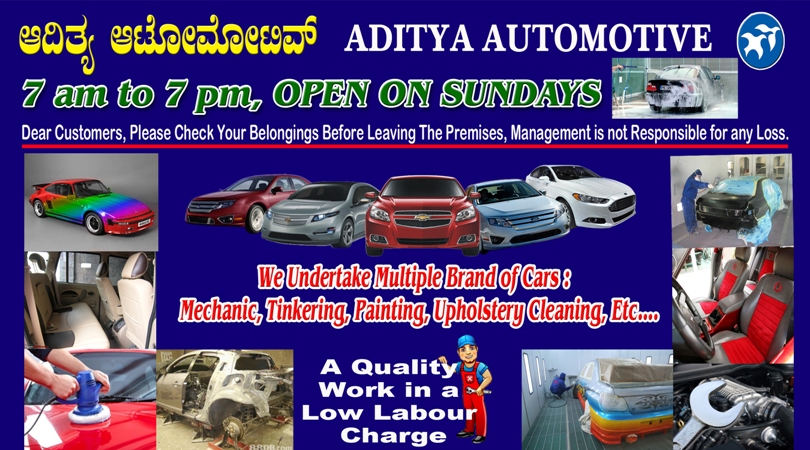 Owners Full Name:
Mr. Prasad
Mr. Rakesh
Contact Numbers:
Phone:
080-28444800
Mobile:
+91-9902088096
+91-9241033300
Car Service Station Locations:
#1, Thirumala Layout, Agara Main Road, Near A.K.R. School, Bangalore – 560043
E-mail:
myadityaautomotive@gmail.com
Specialist In:
– Mechanical and Painting
– Services for all Indian and Imported Vehicles
Experiences:
The owners have more than 25 years experience in India and Abroad in the field of all types of Car Services.
Satisfied Customers:
More than 10,000 numbers of satisfied customers.
Achievements:
More than 10,000 numbers of satisfied customers
Aim of your Business Life:
Undertaking all kinds of 4 Wheelers, Tinkering, Painting, A/C & Mechanical Works, etc.
Best moments of your professional life?
When I see satisfied customers coming back to our Workshop.
Why is your Car Service Station the best in Bangalore?
We feel we are also one of the best because we have latest equipments, painting booth, specialized technicians. We are Gulf return, unique and we provide international standards of car services for all kinds of Indian and Imported cars.
What is your opening time for Car Service Station?
Workshop – Monday to Saturday – 9:30AM to 6:30PM
Car Washing – Monday to Saturday – 7:00AM to 7:00PM
Sunday – 7:00AM to 12:00PM (Workshop & Car Washing)
How do you rate the interview with Internet Admedia?
Excellent.