Vivekananda Educational Institute (R) (The way of Success)
Vivekananda Educational Institute (R) (The way of Success)

In search of the Best Study Centers in Bangalore, Internet Admedia reached to a Study Center in Indira Nagar, Krishna Temple Road, Bangalore which is educating the students since so many years in the field of all Commerce, Management, Technical / Engineering, Education, Arts, etc. through Hundreds of different Universities. That Study Center is known as "Vivekananda Educational Institute (R)". Vivekananda Educational Institute (R) was first established in Indira Nagar, Bangalore. You can read all facts about the Study Center as given below, which was asked in face to face interview with Study Center by Internet Admedia.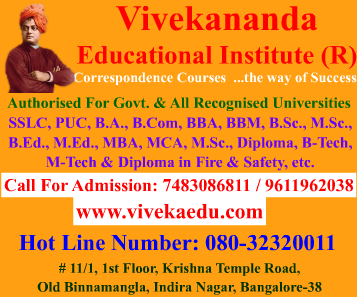 Hot Line Number:
080-32320011
Contact Numbers:
+91-7483086811
+91-9611962038
Email:
vivekaedu.bhoomi@yahoo.com
Website:
www.vivekaedu.com
Study Center Location:
Vivekananda Educational Institute (R)
# 11/1, 1st Floor, Krishna Temple Road,
Old Binnamangla, Indira Nagar, Bangalore – 560038
Why is your Study Center the best in Bangalore?
Because we are giving individual care to students and we try to guide students in every step.
We try to guide students in performing their projects. We give better options to students to go for the best Universities according to their choices.
Specialist In:
– Providing Correspondence Courses in selected Subjects with recognised Univercities
– Tuition's for 5th, 6th, 7th, 8th, 9th and 10th (for CBSE, ICSE & State Board), 1st PUC, 2nd PUC, Diploma, Degree, Master Degree
– Diploma Subjects for all the branches. (Mechanical Engineering, Computer Science Engineering, Civil Engineering, Electrical Engineering, Electronics and Communications Engineering)
Recognised Universities:
– Vivekananda University
– KSOU
– NWAC
– Techno Global University
– Shridhar University
– Jodhpur National University
– Vinayaka Mission University
– etc.
Features:
– Experienced Teachers
– Tests at Every Level
– Individual Care
– Print Material
– For Limited Students Only
Satisfied Students:
More than Hundreds numbers of students.
Achievements:
Success and Happiness on our Students face.
What is timing for your Study Center?
Monday to Saturday – 10:30AM to 6:30PM
Sunday – Prior to Appointement
How do you rate the interview with Internet Admedia?
Good.