Queens Corner (Ladies Jewellery, Ladies Designer Sarees, Kurti, Leggins, Dresses Materials, Best Western Outfit and Readymade Dresses Shop)
Queens Corner (Ladies Jewellery, Ladies Designer Sarees, Kurti, Leggins, Dresses Materials, Best Western Outfit and Readymade Dresses Shop)

In search of the Best "Ladies Jewellery, Ladies Designer Sarees, Kurti, Leggins, Dresses Materials, Best Western Outfit and Readymade Dresses Shops" in Bangalore, Internet Admedia reached to a shop in T C Palya Main Road, Hoysala Nagar, Bangalore which is satisfying the customers since 2 years and that shop is famous as "Queens Corner". The owner of that single ladies center (shop) is Mrs. Rani Das. You can read all facts about her and business life as given below, which was asked in face to face interview with her by Internet Admedia.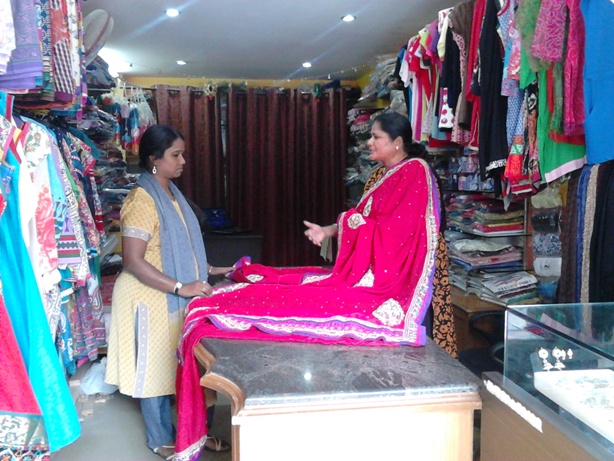 Owner's Full Name:
Mrs. Rani Dass
Hot Line Number:
+91-9902527435
Contact Number:
+91-9008748640
+91-8892588612
Specialist In:
All ladies items like:
– Ladies Jewellery
– Designer Sarees
– Dress Materials
– Readymade Dresses
– Tops/Leggings
– Undergarments
– Nighties
– Western Outfits
– Kurti
– Stolls
– Capric
– Skirts
– etc.
Special Offers:
– 20% DISCOUNT on MRP (All branded and non-branded items).
Experiences:
– 25 years experienced in the field of selling Ladies Designer Sarees, Dresses Materials and Readymade Dresses, etc.
Satisfied Customers:
– More than 5,00,000 numbers of satisfied customers
Shop Location:
Queens Corner
No. 5, 3rd Main, Manjunatha Complex, Oppt. FMC, T C Palya Main Road, Hoyasala Nagar, Bangalore – 560016
Achievements:
– More than 5,00,000 numbers of satisfied customers
Aim of Business Life:
– Satisfying the customers according to their requirements.
Best moments of your life?
– When I see satisfaction in my customers eyes and smile on face.
Why is your shop the best in Bangalore?
– Best collections
– Best prices compare to others
– Offering ultimate discounts on all branded and non-branded items
What is your shop timing?
– Monday to Saturday – 11:00AM to 9:00PM
How do you rate the interview with Internet Admedia?
Good.