Blossom Home Furnishing Store
Blossom Home Furnishing Store

In search of the Best Furnishing Stores in Bangalore, Internet Admedia reached to a Furnishing Store in Marathahalli Main Road, Near Brand Factory, Bangalore which is satisfying the customers since 10 years and that Furnishing Store is famous as "Blossom Home Furnishing Store". The company has done so many deals with big and leading builders, Hotels and Institutions. The owner of that Home Furnishing Store is Mr. M. Manoharan. You can read all facts about store and professional life of owner as given below, which was asked in face to face interview with owner by Internet Admedia.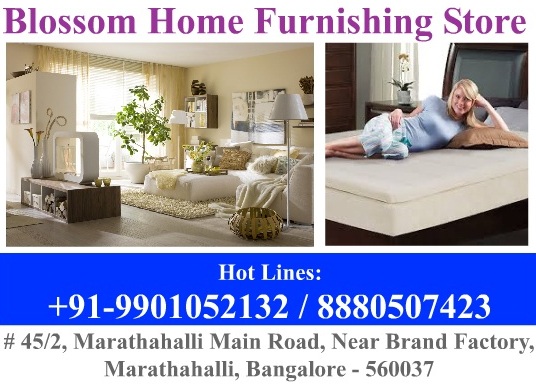 Owner's Full Name:
Mr. M. Manoharan
Hot Line:
+91-9901052132
Contact Numbers:
+91-9901052132
+91-8880507423
E-mail:
blossommano38@gmail.com
Showroom Location:
# 45/2, Marathahalli Main Road, Near Brand Factory, Marathahalli, Bangalore – 560037.
Specialist In:
– Ready made curtains window and Door
– Bed linings and Bed Sheets
– Furnishing Fabrics
– Imported Fabrics
– Blankets, Quilt, Rugs etc.,
– Deal with All Branded Mattresses and Pillows
– Blinds and Vertical Blinds
– Wall papers
– Vinyl Flooring
– Bean Bags
– Furnitures
Special Offer:
Double Cot, Mattress, Bed Sheet and 2 Pillows Just for INR 18000/-
Payment Options:
All types of Cards are accepted.
EMI option is available.
Experiences:
10 years experiences in the field of Interiors.
Satisfied Customers:
More than 10000+ numbers of satisfied customers.
Achievements:
More than 10000+ numbers of satisfied customers
Aim of Business Life:
Providing the Quality Product for Economic Price.
Best moments of your life?
When we see satisfaction in my customers eyes
Why is your showroom the best in Bangalore?
Because we provide the better services with best price with compare to others.
What is timing for your showroom?
Everyday – 10:30AM to 9:30PM
How do you rate the interview with Internet Admedia?
So nice.