Mother's Day Gift Ideas: Unique Ideas for Every Kind of Mom
Mother's Day is just around the corner, and it's time to show the special woman in your life just how much she means to you. But what do you get the person who has given you everything? Fear not, we've got you covered. We've compiled a comprehensive list of unique Mother's Day gift ideas for every kind of mom out there, from the fitness enthusiast to the artsy mom, and everyone in between. Our guide will ensure you find the perfect present to make this Mother's Day one she'll never forget.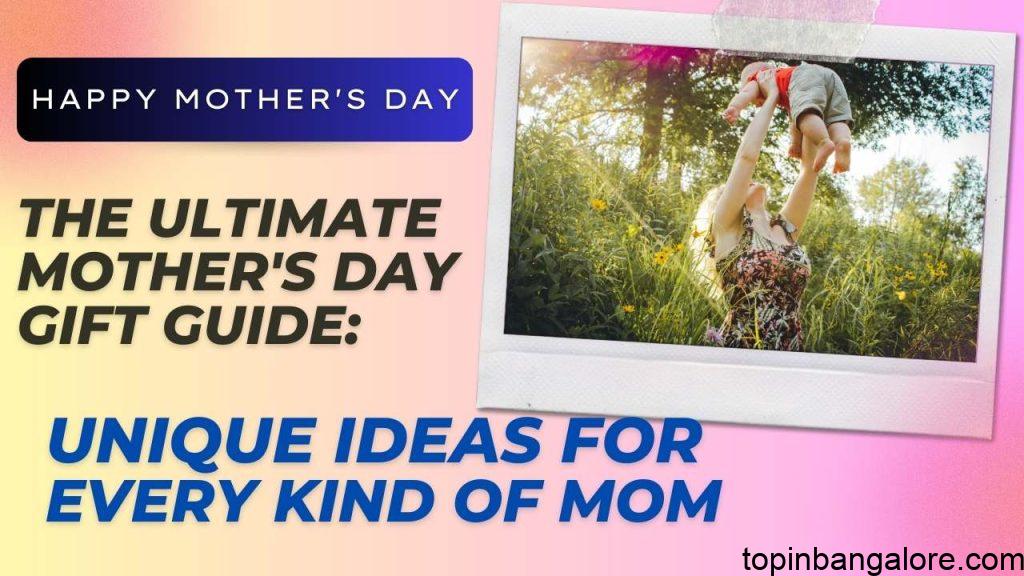 For the Green-Thumbed Mom: [Mother's Day gift ideas]
If your mom is passionate about plants and gardening, consider these thoughtful gifts to help her cultivate her green space.
Stylish Gardening Gloves
A pair of high-quality gardening gloves will keep her hands protected while she tends to her beloved plants. Look for gloves with reinforced fingertips and a comfortable, snug fit.
Personalized Garden Tools
Upgrade her gardening arsenal with a set of personalized, engraved tools. A customized trowel, cultivator, and pruning shears will make her feel extra special as she works in her garden.
Beautiful Planters
Elevate her plant collection with some stylish and unique planters. From ceramic pots to hanging baskets, choose something that complements her home décor and showcases her favorite foliage.
For the Fitness-Focused Mom:
If your mom is all about staying active and healthy, these gifts will help her stay on track with her fitness goals. [Mother's Day gift ideas]
High-Quality Yoga Mat
A top-notch yoga mat is essential for any fitness enthusiast. Look for one with extra cushioning and a non-slip surface for added comfort and stability during her workouts.
Fitness Tracker
Help her monitor her progress with a sleek and versatile fitness tracker. Choose one that tracks steps, heart rate, sleep, and more, so she can stay motivated and on top of her goals.
Stylish Activewear
Upgrade her workout wardrobe with some fashionable and functional activewear. Comfortable leggings, supportive sports bras, and moisture-wicking tops will keep her looking and feeling great during her workouts.
For the Culinary Connoisseur Mom: [Mother's Day gift ideas]
For the mom who loves to cook and experiment in the kitchen, these gifts will make her culinary dreams come true.
High-Quality Knives
A set of top-notch knives is the foundation of any great kitchen. Opt for a versatile set that includes a chef's knife, paring knife, and serrated bread knife.
Cooking Classes
Give her the gift of knowledge with a cooking class taught by a professional chef. Whether she's a seasoned cook or a beginner, she'll love learning new techniques and recipes to try at home.
Unique Cookbooks
Expand her culinary horizons with a collection of unique and inspiring cookbooks. Choose titles that focus on her favorite cuisine or explore new ingredients and techniques she's never tried before.
For the Artistic Mom:
If your mom has a creative side, these gifts will inspire her artistic pursuits. [Mother's Day gift ideas]
Art Supplies
Stock her studio with high-quality art supplies, such as watercolor sets, sketch pads, and oil pastels. Choose items that cater to her specific artistic interests and encourage her to explore her creative passions.
Online Art Classes
Give her the opportunity to learn from the pros with online art classes. She can develop her skills in drawing, painting, sculpture, and more with the guidance of talented instructors.
Customized Art Piece
Commission a one-of-a-kind art piece created just for her. Whether it's a portrait of the family, a landscape of her favorite vacation spot, or an abstract piece that complements her home décor, she'll cherish this personalized gift.
For the Tech-Savvy Mom:
If your mom loves staying up-to-date with the latest gadgets and technology, consider these cutting-edge gift ideas.
Smart Home Assistant
Make her life easier with a smart home assistant, like the Amazon Echo or Google Home. She'll love using voice commands to control her music, make hands-free calls, and manage her smart home devices.
Digital Photo Frame
Help her display her favorite memories with a digital photo frame that can store and display hundreds of photos. Look for one with Wi-Fi capabilities, so she can easily update her photo collection.
Noise-Canceling Headphones
Provide her with some peace and quiet with a pair of high-quality noise-canceling headphones. She'll appreciate being able to block out distractions and focus on her favorite music, podcasts, or audiobooks.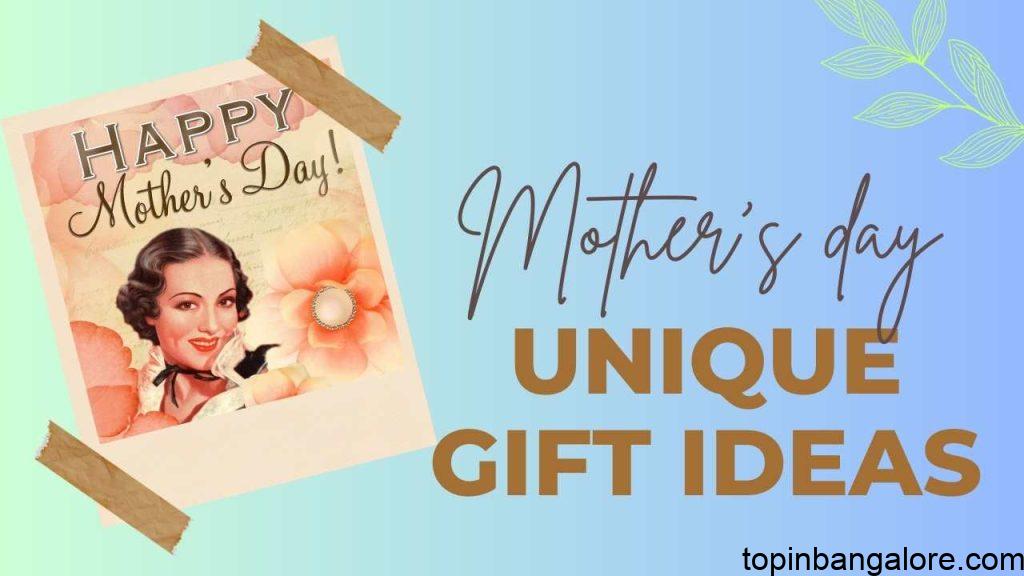 For the Fashion-Forward Mom:
If your mom has an eye for style and loves updating her wardrobe, these gifts will make her feel like a fashionista.
Statement Jewelry
Elevate her accessory game with a stunning piece of statement jewelry. From bold necklaces to eye-catching earrings, choose something that reflects her unique sense of style.
Personalized Handbag
Gift her a chic and practical handbag with a personalized touch. Opt for a classic tote or crossbody bag with her initials or monogram for a truly one-of-a-kind present.
Stylish Scarves
Add a pop of color and sophistication to her wardrobe with a collection of stylish scarves. Choose from luxurious cashmere, lightweight silk, or trendy patterns to suit her fashion preferences.
For the Self-Care Enthusiast Mom: [Mother's Day gift ideas]
If your mom is all about relaxation and pampering, these gifts will help her unwind and recharge.
Treat her to a luxurious spa day where she can enjoy a massage, facial, and other pampering treatments. She'll love having a day dedicated to relaxation and self-care.
Aromatherapy Diffuser
Bring the calming scents of her favorite essential oils into her home with an aromatherapy diffuser. Look for one with a sleek design and adjustable settings to suit her preferences.
Cozy Robe
Give her the gift of comfort with a plush and cozy robe. Opt for one made from soft and absorbent materials, like Turkish cotton or microfiber, for a truly luxurious experience.
For the Bookworm Mom:
If your mom loves to curl up with a good book, these literary-themed gifts will be right up her alley. [Mother's Day gift ideas]
Personalized Bookmarks
Help her keep her place in her favorite novels with a set of customized bookmarks. Choose from engraved metal or hand-painted leather for a truly unique gift she'll treasure.
Reading Pillow
Make her reading sessions even more comfortable with a supportive reading pillow. Choose one with a sturdy backrest and arm support, so she can read for hours without any discomfort.
Book Subscription Service
Keep her reading list fresh and exciting with a book subscription service. She'll love receiving a curated selection of new titles each month, tailored to her specific reading preferences.
For the Travel-Loving Mom: [Mother's Day gift ideas]
If your mom has wanderlust and loves exploring new places, these travel-themed gifts will fuel her passion for adventure.
Scratch-Off World Map
Help her track her travels and plan future trips with a scratch-off world map. She'll love revealing the colorful countries underneath the scratch-off surface as she journeys around the globe.
Travel Journal
Give her a beautiful travel journal where she can document her adventures and memories. Opt for one with a durable cover and plenty of space for photos, ticket stubs, and mementos.
Packing Cubes
Make her travels more organized and efficient with a set of packing cubes. These handy accessories will keep her suitcase neat and tidy, making packing and unpacking a breeze.
Now that you have a plethora of unique and thoughtful Mother's Day gift ideas, it's time to choose the perfect present for the mom in your life. No matter her interests or hobbies, our ultimate gift guide has something for everyone. Happy shopping!