Mahendra Kumar Funeral Program: Mukhagni is done in Koppa Chikmagalur Karnataka
Social Activist, Former state Bajarang Dal chief and the Great Speaker Mahendra Kumar, 47 passed away at M S Ramaiah Hospital, Bangalore on Saturday, 25th April 2020 following a heart attack. He was the great Hero and Youth Leader. He is the inspiration for many people. According to Wikipedia "He was reportedly involved in the 2008 attacks on Christians in southern Karnataka on 14 September 2008. He claimed that he was incarcerated for 42 days in Mangalore before being released on conditional bail by Karnataka High Court Justice Ashok B. Hinchigeri on 25 October 2008, and was used as a scapegoat by the Bharatiya Janata Party regime to "save the government from further embarrassment after the church attacks and on instructions from the Sangh Parivar leaders."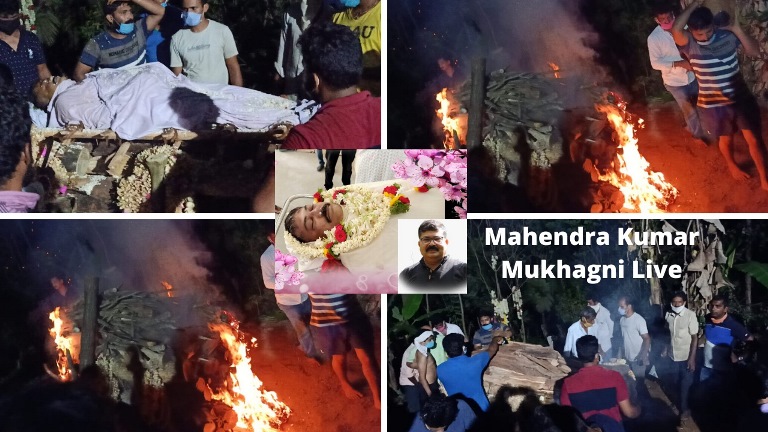 According to Wikipedia further you can find "He denied that any Catholic churches were attacked by his group during the attacks but reportedly accepted responsibility for the attacks on prayer halls belonging to the New Life Fellowship Trust." Anyway finally the founder of "Namma Dhwani", Mahendra Kumar is no more. In the video you can see how his funeral program was done at night on Saturday 25th April 2020 in his native place Koppa Chikmagalur Karnataka. You can see how the Mukhagni of Mahendra Kumar was done.
In this video you can see the public behind his dead body with phool mala for last visit. How people are running behind him because of his great works done for the public. Really he was the great hero and super warrior.
The Former Chief Minister of Karnataka and present Leader of the Opposition in the Karnataka, Siddaramaiah tweeted "I am saddened by the unexpected death of social worker Mahendrakumar. This young leader who had been working hard to organize the secular forces had assured me in just a couple of visits. My condolences to their sad family."
ಸಾಮಾಜಿಕ ಹೋರಾಟಗಾರ‌ ಮಹೇಂದ್ರಕುಮಾರ್ ಅವರ ಅನಿರೀಕ್ಷಿತ ಸಾವಿನಿಂದ ದು:ಖಿತನಾಗಿದ್ದೇನೆ.
ಜಾತ್ಯತೀತ ಶಕ್ತಿಗಳನ್ನು ಸಂಘಟಿಸಲು ಅವಿರತವಾಗಿ ಶ್ರಮಿಸುತ್ತಿದ್ದ ಈ ಯುವ ನಾಯಕ ಒಂದೆರಡು ಭೇಟಿಗಳಲ್ಲಿಯೇ ನನ್ನಲ್ಲಿ ಭರವಸೆ ಮೂಡಿಸಿದ್ದರು.
ಅವರ ದು:ಖತಪ್ತ ಕುಟುಂಬಕ್ಕೆ ನನ್ನ ಸಂತಾಪಗಳು. pic.twitter.com/wcmKL4rdag

— Siddaramaiah (@siddaramaiah) April 25, 2020
"The news of the sudden demise of social activist Mahendra Kumar is shocking. The chasm of the system is like a chasm of life." the former Chief Minister of Karnataka H D Kumaraswamy tweeted.
ಸಾಮಾಜಿಕ ಹೋರಾಟಗಾರ ಮಹೇಂದ್ರ ಕುಮಾರ್ ಅವರ ಹಠಾತ್ ನಿಧನದ ಸುದ್ದಿ ಕೇಳಿ ದಿಗ್ಬ್ರಮೆಯಾಗಿದೆ. ವ್ಯವಸ್ಥೆಯ ತಲ್ಲಣಗಳಿಗೆ ಮಿಡಿಯುತ್ತಿದ್ದ ಜೀವ ಕಮರಿ ಹೋದಂತಾಗಿದೆ.
1/5 pic.twitter.com/6VNMfuoWrW

— H D Kumaraswamy (@hd_kumaraswamy) April 25, 2020
Here is some more video of the great hero and youth leader Mahendra Kumar. You can see, his dead body loading inside the Ambulance and more.
Here you can see the preparation for his Funeral.