Carmel Dental Care

Internet Admedia was on the lookout for a few state of the art dental clinics across Bangalore, we came across Carmel Dental Care located on Hennur Main Road, Carmel Dental Care is about a year old, however it is run by highly Experienced Doctors and Specialists across all verticals in Dentistry. We met with the Director of Carmel Dental Care – Dr. Suja Francis, and asked her a few facts.
Director; Dr. Suja Francis
Dr. Suja Francis, a graduate from – M.R. Ambedkar Dental College, Bangalore, Karnataka, India. Dr. Suja is an active member of Indian Dental Association and Society of Oral Laser Applications (SOLA).

Question:
What makes your clinic different from other clinics?
Answer:
Carmel Dental Care is all about making people visiting us feel really comfortable and not feel like they have entered a clinic; hence we focused on a lot of space.
We take our time making sure the person consulting us has fully understand the process and explain what's going to be the end result and making him fully prepared mentally and physically before we start the procedure.
Also, our Key focus is on Hygiene and complete sterile atmosphere, all instruments we use are Autoclaved, UV Treated and completed Sealed and Packed.
Contact Numbers:
Mobile:
+91-8105993337
Phone:
080-28443887
Clinic Location:
# 109, 1st Floor, Carmel Complex, Geddalahalli, Hennur Main Road, Kothanur Post, Bangalore – 560077
E-mail:
drsuja@carmeldentalcare.in
Empanelled Specialist Doctors:
Dr. Chris Deepak MDS (Oral Maxillo Facial Surgeon)
Dr. Vinod Pattabiraman MDS (Orthodontist)
Dr. Deepak Chaudary MDS (Endodontist)
Dr. Dinesh Francis MDS (Pedodontist)
Dr. Mangala MDS (Prosthodontist)
Dr. Kirpa Johar (Laser Specialist)
Services Provided:
– Cosmetic Dentistry
– Dental Implants
– Porcelain Veneers & Laminates
– Root Canal Treatment
– Pedodontics (Child Dentistry)
– Orthodontics
– Denture Crown & Bridges
– Periodontics
– Oral Surgery
– Full Mouth Rehabilitation
– Smile Designing
– Laser Dentistry
– Preventive Dentistry
– Dental Stem Cell Banking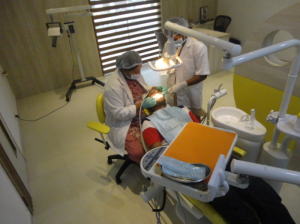 Experiences:
Dr. Suja is more than 6 years experienced in the field of Dental Care.
Website:
www.carmeldentalcare.in
Facebook:
www.facebook.com/carmeldentalcareblr
Vision Statement:
Oral Care for better health.
What is your opening time for Clinic?
Monday to Sunday – Morning (10:00AM to 2:00PM), Evening (4:00PM to 9:00PM)
How do you rate the interview with Internet Admedia?
Good.